The microgrid opportunity around the world continues to grow significantly. One recent report forecasts a compound annual growth rate (CAGR) for the market of 12% between 2016-2022, while a second projects it to reach $35 billion by 2025 with a stunning 20.7% CAGR.* The reasons for this include the falling costs of solar energy, advances in energy storage, the drive to mitigate climate change, and the cost savings associated with minimizing fossil fuels in remote generation systems. In addition, microgrids will play a central role in bringing electrification to rural and developing regions in which access to reliable, clean and affordable energy is a high priority.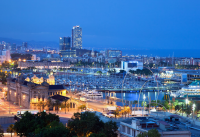 The 5th edition of the Microgrid Global Innovation Forum focuses on microgrid advances, case studies and applications in EMEA, Asia-Pacific, and Latin America. The emphasis is on maximizing the effective use of renewable and distributed energy resources, refining the positive business model for a range of microgrid deployments, and sharing real-world case studies in both grid-tied and off-grid/remote environments. The event will focus on:
Microgrid feasibility, design, and implementation
Refining the business case for off-grid, remote, and island microgrids
Solar + storage advances
Project financing and investor perspectives
Determining the correct technology mix for hybrid energy systems
Advanced battery, fuel cell, and flow battery technologies
Microgrid power control, management, and integration
Integrating distributed renewable energy resources into the grid
Effective project evaluation, implementation, and management
Regulatory and public policy advances
Standards and interoperability issues
Market drivers and opportunities worldwide
and more

The Call for Speakers is currently open. Click here for details.